Legacy Builders - Where Integrity Resides
Legacy Builders NRV, Inc. takes significant pride in providing our clients with a positive and exciting home building experience.  We take the stress out of the construction process, and our clients actually have fun while building with our firm.
We design custom homes to fit our client's lifestyle, budget, future aging needs, and, of course, to maximize the attributes of the building lot. We can also use our creativity and years of experience to solve problems in your existing home, from minor renovations to major additions.
Legacy Builders NRV, Inc. is proud of our impeccable reputation, before, during, and long after the completion of our projects.  Our clients become our friends, and our homes truly are "Where Integrity Resides."
We welcome the opportunity to work with you on your custom home building and/or renovation needs.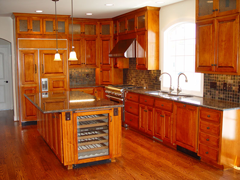 We are very pleased with the experience we had with Legacy Builders from the initial design work, through the actual building and now 9 months after we moved into our new home.
- John & Angela V
Blacksburg, Va
Read more...
Home Builder's Tip

Happy Thanksgiving Everyone!
We have so much to be thankful for this year.  Wonderful clients-now friends, new prospective clients for the coming year, good health, safe job sites, terrific families and so much more.
We can't let the holiday pass without remembering the passing of our dear friend, William Flinchum.  He was the most talented excavator in the business and we miss him every day.
Prayers for your safe travel during the holidays.  We hope that you spend some quality time with your families and friends and know that we are very Thankful for you!
Sincerely,
Nancy and Jerry