Legacy Builders - Where Integrity Resides
Legacy Builders NRV, Inc. takes significant pride in providing our clients with a positive and exciting home building experience.  We take the stress out of the construction process, and our clients actually have fun while building with our firm.
We design custom homes to fit our client's lifestyle, budget, future aging needs, and, of course, to maximize the attributes of the building lot. We can also use our creativity and years of experience to solve problems in your existing home, from minor renovations to major additions.
Legacy Builders NRV, Inc. is proud of our impeccable reputation, before, during, and long after the completion of our projects.  Our clients become our friends, and our homes truly are "Where Integrity Resides."
We welcome the opportunity to work with you on your custom home building and/or renovation needs.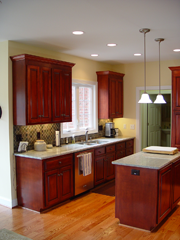 We chose Legacy Builders based on a recommendation from members of our family. Having seen their beautiful home and being impressed with its quality workmanship, we requested a meeting with Legacy Builders to discuss options for building our own home.
- Hubert and Stacy B
Riner, Va
Read more...
Home Builder's Tip

Happy 2017 to you and your family!
We hope that your holidays were filled with special moments, some time to rest and rejuvenate, and that your new year is starting off to be a truly wonderful one!
Our crews are back hard at work, having taken a few days off to celebrate the season with their families, and everyone seems to be in good spirits and glad to be back.
Please give us a call if you are thinking about making some improvements to your home, or if you are considering building your own dream home during the coming months or years.  We would welcome the opportunity to work with you.
Here's to a healthy, fun, prosperous 2017 for us all!
Sincerely,
Nancy and Jerry