Legacy Builders - Where Integrity Resides
Legacy Builders NRV, Inc. takes significant pride in providing our clients with a positive and exciting home building experience.  We take the stress out of the construction process, and our clients actually have fun while building with our firm.
We design custom homes to fit our client's lifestyle, budget, future aging needs, and, of course, to maximize the attributes of the building lot. We can also use our creativity and years of experience to solve problems in your existing home, from minor renovations to major additions.
Legacy Builders NRV, Inc. is proud of our impeccable reputation, before, during, and long after the completion of our projects.  Our clients become our friends, and our homes truly are "Where Integrity Resides."
We welcome the opportunity to work with you on your custom home building and/or renovation needs.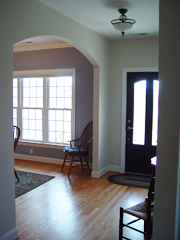 Legacy encouraged us to play an active role in the home-building process, and that suited us perfectly.  Daily site visits on our part never seemed to be an imposition on them.  They appeared to take pleasure in our interest.
- Kathy and Bob T
Blacksburg, Va
Home Builder's Tip

It certainly was a wet 4th of July this year. Our town was able to pull of the fireworks, just prior to the storm, and Mother Nature showed off her glory with a lightening show to rival the colorful show.
We are super grateful for freedom in this great country of ours.  Thanks to the men and women serving in our armed forces to guarantee this freedom and our security, which we so often take for granted.  We are thankful to their families, who are also making sacrifices daily for our protection.
Give us a call if you are ready to start working on a new home project. We are already designing and pricing homes for the coming year, so it is never too early to start planning.
God Bless America!
Sincerely,
Nancy and Jerry