Legacy Builders - Where Integrity Resides
Legacy Builders NRV, Inc. takes significant pride in providing our clients with a positive and exciting home building experience.  We take the stress out of the construction process, and our clients actually have fun while building with our firm.
We design custom homes to fit our client's lifestyle, budget, future aging needs, and, of course, to maximize the attributes of the building lot. We can also use our creativity and years of experience to solve problems in your existing home, from minor renovations to major additions.
Legacy Builders NRV, Inc. is proud of our impeccable reputation, before, during, and long after the completion of our projects.  Our clients become our friends, and our homes truly are "Where Integrity Resides."
We welcome the opportunity to work with you on your custom home building and/or renovation needs.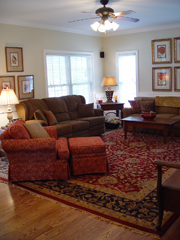 Being first-time home builders, it was very reassuring to be in Jerry's capable hands.  He patiently answered all of our many questions and impressed us with his attention to detail and pride in workmanship .  As he told us one day-I don't just want it to be right, I want it to be perfect!
- Natalie S.
Blacksburg, Va
Home Builder's Tip

Dare we say, "Spring at last?"  I have lived through too many late April and early May snows in Virginia, to be too optimistic, however, we sure are enjoying these BEAUTIFUL days!
While i wouldn't suggest we plant any outside flowers or vegetables just yet, we might need to get right on pulling those weeds, trimming up some branches and bushes, and while you are outside, take a look at your gutters, and vents, to ensure they are free of clogs.
This is the time of year when Blue Birds are checking out our vents for their nests, and in spite of earlier attempts to exterminate them, my flowering trees are full of caterpillar webs and nests.
Someone told me last week that their doctor said thirty minutes a day standing in the sun was equivalent to an anti-depression prescription that they were taking!?  Who knew the power of Mother Nature?
Let's all set a daily goal to get out from behind these computers, put away our smart phones, and observe, experience, and enjoy the glorious world around us.
Happy Spring to you all!
Sincerely,
Nancy and Jerry