Legacy Builders - Where Integrity Resides
Legacy Builders NRV, Inc. takes significant pride in providing our clients with a positive and exciting home building experience.  We take the stress out of the construction process, and our clients actually have fun while building with our firm.
We design custom homes to fit our client's lifestyle, budget, future aging needs, and, of course, to maximize the attributes of the building lot. We can also use our creativity and years of experience to solve problems in your existing home, from minor renovations to major additions.
Legacy Builders NRV, Inc. is proud of our impeccable reputation, before, during, and long after the completion of our projects.  Our clients become our friends, and our homes truly are "Where Integrity Resides."
We welcome the opportunity to work with you on your custom home building and/or renovation needs.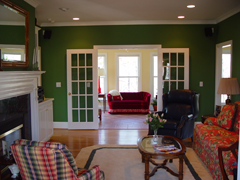 We had read a book about building a home, and we discovered that while it can be a great experience, it can also be a nightmare.  The big difference is the builder, and Legacy Builders was an excellent choice for us.  Nancy worked with us on the sale of the lot and our design, and we were so pleased with the results.  Nancy and Jerry and their crew were so good to work with, and they came in on schedule, and right on target financially.  We have worked with them subsequently in three smaller jobs related to our home.  We are happy here, but often think we might want to build again, as long as it is with Legacy Builders!
- Glenn and LaVina T
Montgomery County, Va
Home Builder's Tip

Fall, football games, and fun times are being had in our small town. The students are all back and the town is thriving with vitality and energy.
This is a great time to do a simple exterior home 'inspection.'  Before the fall leaves fill up our gutters, what needs to be done to create a safe and comfortable environment at your home?  Changing our smoke detector batteries and air filters, switching out exterior light bulbs, and clearing away vegetation from our paths is a great use of our time in the coming weeks.
Give us a call if you need any assistance with your 'honey do' list.  We can send over the experts if needed.
Blessings to you and your family for a healthy, fun and fabulous fall!
Sincerely,
Nancy and Jerry