As a small firm with a core of just three people surrounding themselves with a team of talented building partners, Legacy Builders has positioned itself to deliver the quality, custom homes that clients demand. We take pride in developing a personal relationship with each and every individual we build for so that the building process is pleasant and stress free. It is through that very personal relationship that we are truly able to welcome our clients into the building process and become friends for life.
Legacy Builders NRV, Inc. is owned equally by Nancy W. Phillips and Jerry L. Christian.  Nancy is a 1987 Phi Beta Kappa graduate of Randolph-Macon Woman's College and a 1992 master's degree graduate of Virginia Tech.  She is the Class A holder for the company and performs the design, pricing, customer relations and sub contractor scheduling and supervision.  Jerry brings more than 33 years of experience in on site supervision, project management, framing, excavation and general construction experience to the company.  He directs the day to day on site construction operations including the management of the crew and sub contractors and works constantly to ensure that everything is done with superior craftsmanship.  Together the owners take pride in the fact that every foundation is constructed personally by both owners working together at the job site.
Legacy Builders NRV, Inc. is a design build firm incorporated in 1997 as Jones Construction of Blacksburg, Inc. In November 2008, the company changed its name to Legacy Builders NRV, Inc. and added the logo, Where Integrity Resides to better reflect the quality of homes and projects being built by the company as well as to compliment the clients whom they serve.
Legacy Builders NRV, Inc. holds a Class A (2705 0410850A) General Contractors license with the Commonwealth of Virginia. The class A designation is the highest level available through the state approval authorities and permits the license holder the unrestricted authority to build all types of commercial or residential construction.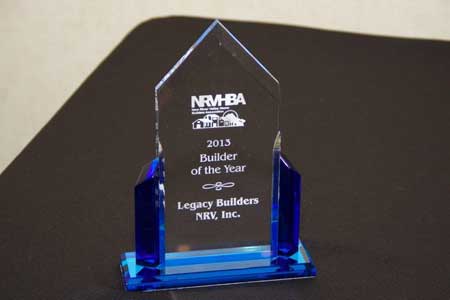 2013 NRVHBA Builder of the Year
Home Builder's Tip

Fall, football games, and fun times are being had in our small town. The students are all back and the town is thriving with vitality and energy.  What a blessed difference from this time last year!
This is a great time to do a simple exterior home 'inspection.'  Before the fall leaves fill up our gutters, what needs to be done to create a safe and comfortable environment at your home?  Changing our smoke detector batteries and air filters, switching out exterior light bulbs, and clearing away vegetation from our paths is a great use of our time in the coming weeks.
We are busy finishing up four custom homes for clients.  It is so much fun to watch the excitement of building turn into the reality of moving in and getting settled for our friends.
Blessings to you and your family for a healthy, fun and fabulous fall!
Sincerely,
Nancy and Jerry